Live on the Earth, Love the Earth, Save the Earth
Youth Econet is a modest network among the youth who are interested in environmental activities.
Our Objective
Continuous efforts for preservation of the Earth is essential for sustainable Earth. Spread environmental activities all over Japan, and all over the world. That is what we believe is needed among youths.
Learn various activities of youths, and applaud them. Provide place for those who have interest in environmental activities to communicate, and encourage others to join. Make a worldwide environmental community of youth. Deepening the understanding of environment so that we can preserve the Earth. All of the members of Youth Econet work together to achieve these.
With the stream of the time. Our environmental activities will develop through SNS communication.
Let's work together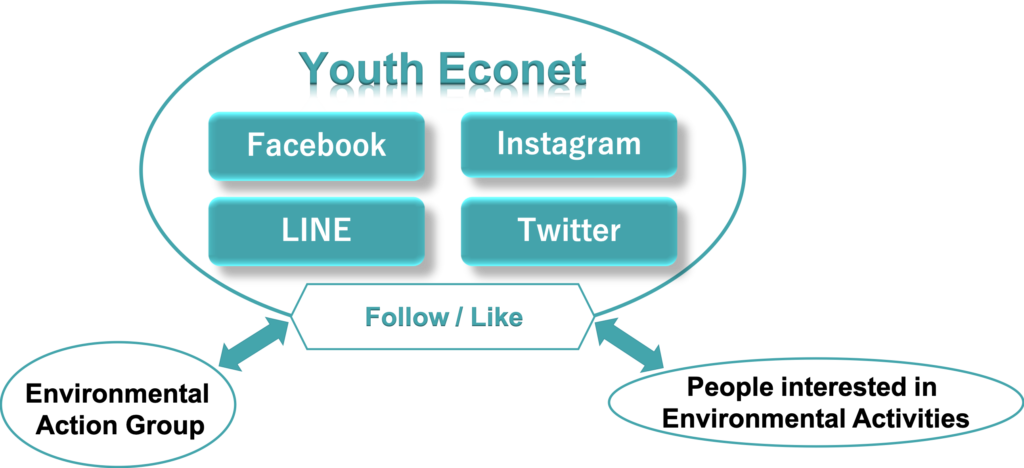 <Join us through SNS>
You can join Youth Econet by following our twitter, instagram or Like our Facebook page.
There is no age restriction. The operation is mainly done by members aged between 12 to 30 years old.
If you are interested in environmental activity / ecological preservation, please join us!
Various Activities of Youth Econet
1 
Supporting Various Environmental Activities
2 Planning, Practice, Running of Events and Environmental Practice
Summer camp for Youth members

Supporters' association
3 Communicating with Youth Econet Members All around the World
Gathering and reporting information of activities on Homepage

Youth members' bidirectional communication on SNS
4 Various Interviews and Reports of Environmental Practice / Events
Requesting participation with environment practice to your group and/or making reports to the group
<Registration for Youth Econet Members>
In order to post activity reports or attend Youth Econet meeting, you have to register.
To do this, please visit Application tab, and submit the information needed.
<Youth Econet Supporters (YES)>
Youth Econet Supporters, or YES, is people who supports youths belong to Youth Econet. 
Youth Econet needs supports from numerous individuals or companies. There is nothing to pay, you just have to say "YES".
Please join YES and inspire Youth Econet!
To join us, please visit Youth Eco homepage and follow the instructions.
<YES special member>
We also appreciate to have YES special members. We ask these people to donate the supporting fund for Youth Econet. 
For further information, please visit Youth Econet Supporters tab.